With the motto of Clean and Heal Himalayas, the the Healing Himalayas Foundation is working constantly to keep  Himalayas clean and garbage free.
With the increasing numbers of tourists visiting the hills, the problem of plastic garbage is getting worse every year. The treks and hill stations are turning into garbage bins. People come here for natural beauty but leave behind the plastic waste like bottles and wrappers. This slowly destroying the natural beauty and the ecosystem of these places. Having no or very little attention from govt. or administration, Himalayas needs someone to step in. And the Healing Himalayas Foundation is the one that took the charge and started cleaning treks and places year after year.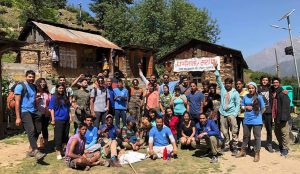 In past two years the foundation has organised numerous successful cleaning campaigns in the different places and treks in Himalayas including Shrikhand Mahadev and Kheerganga treks. Hamta Pass, Jogni Fall, Hadimba Temple, Bijli Mahadev Trek and Chandratal Lake are the other places where the foundation has organised cleaning drives. This year the NGO also started operation in Shimla and held a few cleaning drives.
The NGO was founded by an adventure enthusiast and avid trekker Pradeep Sangwan. During his visits in Himalayas, Pradeep saw the amount of garbage left behind by visitors. So with a purpose to keep these places clean and aware the people, he founded the Healing Himalayas Foundation.
Healing Himalayas Foundation has got a enormous support from  traveller community, local residents, schools students for their cleaning campaigns. The Jawans of Sashastra Seema Bal Kullu also took part in one of the cleaning campaign at Bijali Mahadev. Students of Tara International School had participated in a drive at Hadimba Temple.
Kheerganga is the destination where the NGO organises regular cleaning campaigns. In one of the campaigns to Kheerganga, which I participated in, we have collected and brought down about 35 sacks of plastic. This year the foundation has started a campaign 'trekking with a purpose' to Kheerganga where trekkers trek and do their bit for nature by bringing back the garbage from the trek.
Now the NGO has few campaigns scheduled. One is the Shrikhand Mahadev Yatra cleaning drive, Yatra with a purpose starting on 28th July. The other drive is basically a awareness campaign, a cycle journey from Manali to Leh starting on 15th August. The purpose of this Cycling and Recycling drive to promote sustainable tourism in the Himalayas. There is one another campaign on 15th August, the Independence Day Cleaning Campaign to Kheerganga.
You can be a part of these campaigns. For more information and registration you can visit their website http://healinghimalayas.org